Former Washinghton political gossipist turned glamour investigator, Diana Mclellan immortalised them in her book, The Girls: Sappho Goes to Hollywood, and now antipodean artist Adelina Emmi has captured their allure in oil on canvas......
But who exactly are The Girls, and what exactly is the secret which binds them together?
Before I read Diana's book, I had no idea that Garbo, Dietrich and Bankhead, as well as a whole host of glam hangers on, were, as they say in French - er "manger le carpet" oui oui! Of course, like with pretty much everything in their lives, they did it in style and with only the most iconic of women of the 20th Century.
A case of "I won't sleep with you unless your last name is Dietrich darling."
The Infamous Sewing Circle
The "Sewing Circle" was made up of Hollywood women from the Golden Age of cinema, who are either bi-sexual, committed to lesbianism or just visiting. The liasons they entertained far from the public eye is now the stuff of legends, which only adds to their silver screen mystic, charisma and charm.
Inspired by this infamous sewing circle and its glamorous depiction in Diana's fabulous book, Melbourne-based artists Adelina Emi created a series of paintings in which she captures the glamorous women who lived a saucy secret lifestyle.
"I set out to create portraits of the most powerful actressess of the silver screen who were known to have relationships and affairs with other women. Audiences were mesmerised by these silver screen goddessess who exerted a powerful, androgynous magnetism through the camera lens. An air of mystery and class will forever follow these women that deserve to be remembered." A. Emmi

LONDON GIRL Interviews Adelina Emmi
LG:Congratulations on your first exhibition, The Sewing Circle, was this your first solo? Yes this was my first exhibition but it wasn't solo. The Sewing Circle was accompanied by an exhibition celebrating the life of Vivien St James and a photographic exhibition by Anthony L'Huillier for the Midsumma Festival Celebrating queer culture held in Melbourne, Australia.
LG:At first glance, your fabulous collection of paintings look like a tribute to some of old Hollywood's great movie stars. But there is a deeper undercurrent running through this series, could you explain further?
Well I had always known that Greta Garbo and Marlene Dietrich were bi-sexual. That throughout their lives had love affairs with other women and may even had an affair with each other. But it wasn't until I had read The Girls: Sappho Goes to Hollywood by Diana Mc Lellan, that I became aware of other fabulous actresses of the same era who did the same thing. They shared lovers, arranged lavender marriages so that no one would question their sexuality all the while living a high profile life.
LG:Who was the first star to really capture your imagination and inspire you to start the Sewing Circle series?
The first star that inspired The Sewing Circle was Tallulah Bankhead. She was a woman who lived her life the way that she wanted, even though it was very destructive with all the drugs and alcohol. I admired her strength and intelligence; immediately wanting to paint her. But what inspired me the most were her quotes which I just had to add to her painting. There were so many good ones to choose from, but the one I chose suited the life she led. To say something like that in her day, took a lot of courage. I dare any celebrity in this day and age to do the same.
LG:Tallulah Bankhead is my personal favourite. I love the quote you chose to bring her to life: "My father warned me about men and booze, but he never mentioned a word about women and cocaine."

LG:Her razor sharp wit has transcended the ages. I also love these two Tallulah quotes:
"

I've tried several varieties of sex. The conventional position makes me claustrophobic. And the others give me either stiff neck or lockjaw."
"If you really want to help the American theater, don't be an actress, dahling. Be an audience."
"Nobody can be exactly like me. Even I have trouble doing it.

"
"I'll come and make love to you at five o'clock. If I'm late start without me."
LG:Tallulah was allegedly fascinated by Greta Garbo, what do you think was the secret to Garbo's enduring appeal within the Sewing Circle?
I think Tallulah was fascinated by the mystique of Greta. Garbo was an extremely private person. People were curious to know what she was like out of the limelight. I think today she still holds that mystique. She held her cards close, choosing the people who shared her personal life wisely.
I feel sad for her because fame prevented her from living the life she wanted. Ending her career prematurely and becoming a recluse. Whereas women like Marlene and Tallulah were hungry for the attention and lived with it.
LG:Dalores del Rio was a very interesting character don't you think? She apparently had a fling with Billie Holiday. Dietrich once said that she "was the most beautiful woman in Hollywood" - who do you think was the most iconic?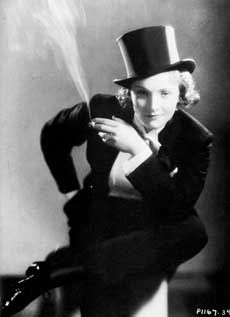 The most Iconic for me was Marlene Dietrich. I remember flipping through a book on HollywoodGoddesses when I came across her in a top hat and tuxedo. From that day on I was smitten. I wanted to know everything about her. And there was so much to discover because she lived such an open life. Open to anything and everything and got away with it. She appealed to both men and women. She set the trend wearing men's clothing bringing the androgynous look into the mainstream.
She called the shots right until the end. Exuding sex and strength. I want to be just like her.
LG:I know what you mean - I grew up with this massive poster in my bedroom, which I then carried around with me for years. I remember putting it up whilst I lived in a squat in my late teens, and I remember it instantly injecting some glamour into the establishement, it really lifted the place - and only Dietrich could do that.
TO ACCESS ALL OF ADELINA'S PAINTINGS, PLEASE CLICK HERE


PSSSST, OVER HERE In need of a Garbo fix?
Click HERE to read my account of visiting Garbo's grave, and click HERE to read Stephanie's visit of Bankhead's grave.
As mentioned before, we are still looking for one final account of a Dietrich grave visit to complete The Girls Grave Trilogy.
Only smokers need apply.