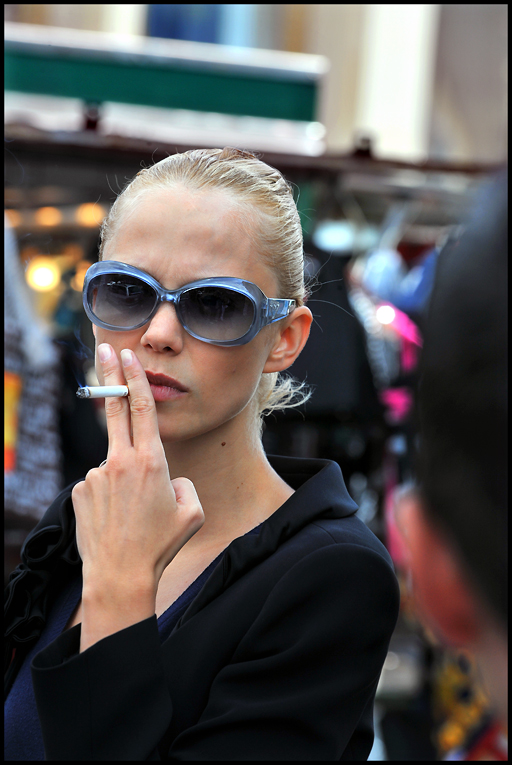 I don't know about you, but when I travel to a foreign land, I like to blend in or stand out for the right reasons. Here is a small guide about getting it right, based on much research, observation and years of trial and error.
For some more style inspiration, visit the Easy Fashion Paris streetsyle blog, from which this gorgeous pic is taken.
When in Paris, do as the Parisians
HAIR: French women are renown for their gorgeous mames and perfect hair colour. Paris is where you can see the best tones of honeyed & golden brown heads in the world. Much of this is achieved through balayage (hand painted highlights) or/combined with the Shatush Technique (where the combination of a skilled hand and a delicate brush results in an ethereal and illuminated hair look).

Blonde hair is only for near-natural blondes, socialites or people who work on TV who can afford the best colourist, otherwise it is mainly sported by tourists and sex workers. Roots are only for plants. Trust me, you will feel better about yourself if you hit the city having had a blow-dry in London first. Headmasters have a great seasonal blow-dry menu for £20.


MAKE-UP: What make-up? Parisians are known for their no-make up, make-up look, if you catch my drift. Anything visible is a big no-no here. Things like eye-shadow and lipstick are used to enhance the natural features, as opposed to disguise or alter them. Think Bobbi-Brown palette.

Much emphasis however is placed on good skin and a healthy-looking complexion ( or "bonne mine" as they like to call it in France).
There is a huge market of products dedicated to achieving this natural glow (just look out for any products with the words "effet bonne mine.")

TANNING:
Where us Brits and Americans like to refer to it as
Fake Tan
, the French call it the pursuit of the "teint hâlé" or sunkissed complexion. Ladies take note, because they very rarely get it wrong. Self-tanning is considered a very risky venture, so Parisian women prefer to have recourse to
Guerlain's Terracota light bronzer
if their skin needs a pick me up in the winter or
Caudalie's Fresh Complexion Tinted Moisturiser
.
Fake tans are like the devil, so don't even think of faking it before hitting their shores.

NAILS:
This is the home of the French-manicure after all, and yes, they really do love it. Acrylic nails are like the biggest no-no ever. French manicures work best on short nails, filled into a square, with only a slight whitening of the tip. If you want to stand out, get your nails manicured in either
Satin Black
or
Vamp
before hitting the bars.
YES, THERE IS MORE................

TIGHTS/LEGGINGS:
Parisians tend to be conservative in their fashion choices, so expect to see a sea of black opaque tights/leggings teamed with kneelenght boots or ballerinas (as modelled beautifully by this girl I snapped from my cab). Coloured tights are seen as a novelty item for fancy dress parties, and so it therfore unwise to dabble in this.
If you are feeling really daring when the sun goes down, then I suggest you invest in a pair of Havana-heeled seamed stockings, in nude/black. I got nothing but compliments about how elegant and feminine I was when I road-tested mine. Just don't take public transport in them, and team with a modest dress to avoid the Moulin Rouge look.
Whatever you do, don't go bare legged unless it is spring or summer or your name is
Carine Roitfeld
(pictured below on the left, wearing Louboutin over the knee boots and making Kate Moss look positively gamine in comparison).
SHOES/BOOTS:
They don't call the Parisians well-heeled for nothing you know. This is a city where looking people from head to toe is a national sport, so don't let your shoes let you down. Good quality riding boots or biker boots are
de rigueur
in the land of the midnight frog. DO NOT PACK any Uggs, you will be spotted a tourist straightaway and get lynched with pitiful looks. For the evening, opt for a caged shoe boot or heeled ankle boot. Ballerinas are still a staple here and expect to see quite a few ladies sporting them in red (this is as adventurous as it gets). Cool Converse are good for the spring, if you are looking for "comfortable" footwear.

ACCESSORIES: During the colder months, it's all about keeping warm and stylish. French people are big on keeping their necks covered at the slightest chill, so make sure you always have a scarf or pashmina dramatically covering your neck, or you will look run the risk of looking like a kamikaze. Most Parisians like to keep their winter wardrobe within the muted colours of black, brown and beige – so accessories such as bags and scarfs are were they like to inject colour into their outfit. Think deep purples and light greys, or a zebra print scarf or gloves. They like to add splashes of red - I am not a big fan, unless its the red sole of a Louboutin.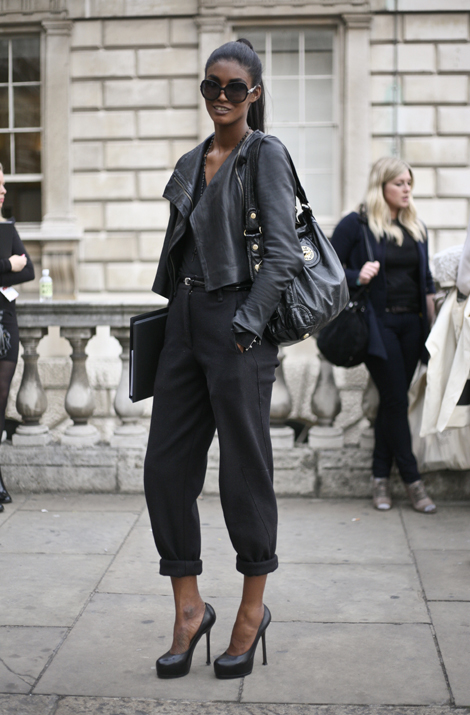 STYLE:
Trends come and go in Paris, but it is always interesting to see how they effect the following types:
the
classic styled woman
: black clothes, well cut coat or jacket, DIY French manicure,probably works in film, art, culture or L'Oreal.
the
fashion-victim
who can be spotted if she is wearing the zara version of the Balmain pronounced star-trek shoulder jacket, most probably an-out-of-work actress who is waitressing at
Le Progres
in Montmartre
the
Fashionista to end all fashionistas
(who will be wearing Alaia, Rick Owens leather jacket and sipping Fiji water at the Hotel Costes). Missy on right is a perfect example.
Photo curtesy of streetpeeper
CLOTHES/COLOURS:
In the cold months, its all about the jacket and the coat, so make sure you pack your best outerwear. Check out these two gorgeous Parisian chicks I snapped a few days ago.
If you cannot afford to purchase a new item, then take your current one to a tailor. This will make a huge difference to how the item looks and feels. If all else fails, at least get it dry cleaned!
Parisians worship the colour
black
– which can wash out sun-deprived complexions, if you don't know what you are doing. Why not make like a true Snow Queen and go for winter whites, making sure to contrast with a black satin manicure to toughen the look up. Or if you want to make Carine Roitfeld proud, inject some olive green/military green something (hot shade for S/S010).
HATS:
Forget berets please and think black slouch beanie if you are going for that glam-grunge Rick Owens look, or a deluxe hoodie for an edgy urban sports feel.
From left:
Easy Fashion
and
StreetPeeper
images.